Details

Category: News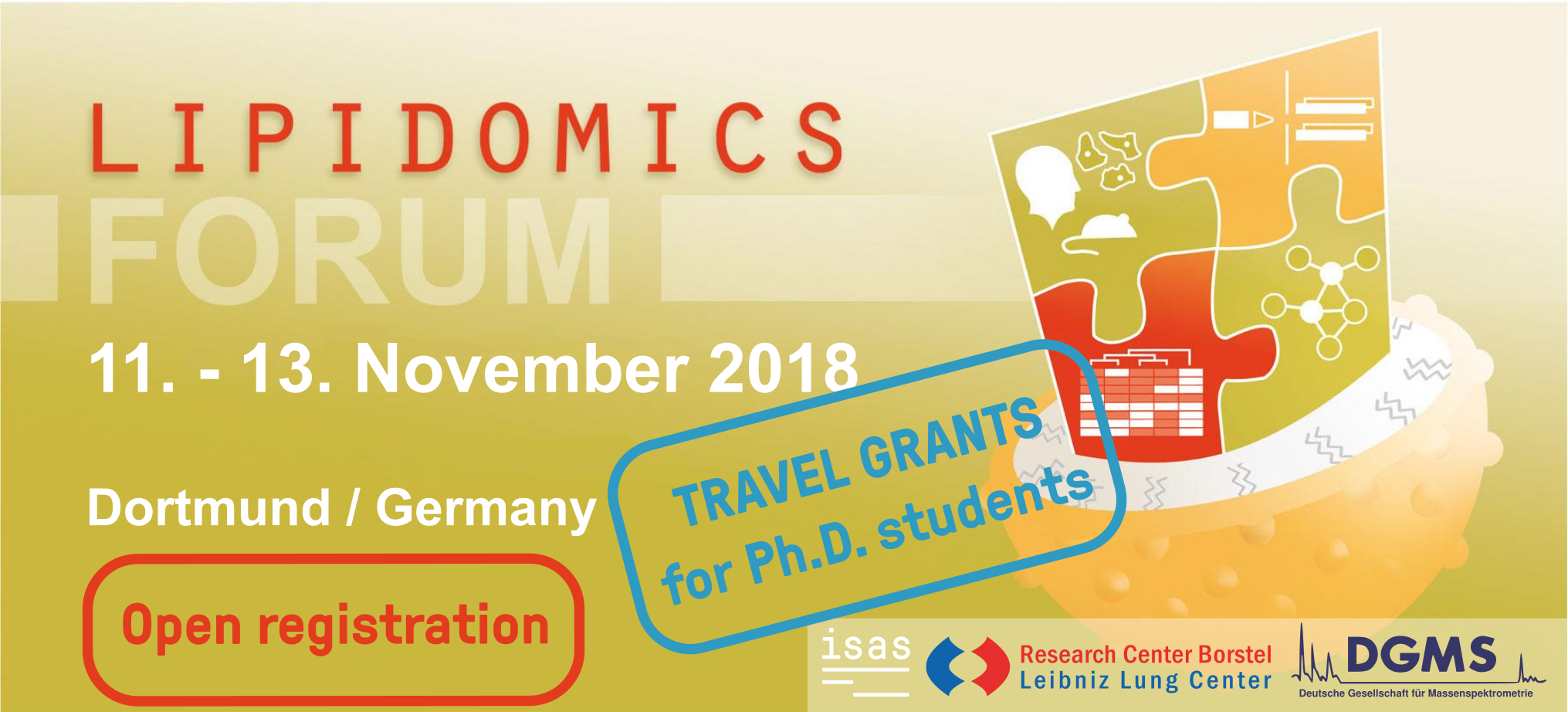 Early bird registration and abstract submission will close on August 30th 2018. Applications for student travel grants will still be possible after the deadline.

We are very happy to announce the 4th International Lipidomics Forum in Dortmund (ISAS) between 11th and 13th of November 2018 (lipidomics-forum.isas.de/ lipidomics-forum.fz-borstel.de). This symposium is the 4th meeting of an annual series of conferences on lipid biology and lipidomics. The forum provides a platform for interaction of international acknowledged scientists, students and young researchers. Specifically, we encourage young researchers to participate by poster presentations and short talks allowing them to receive advice from experts in the field. This symposium series will not only cover research highlights but also will offer tutorials on selected medical and methodical topics, which are in the focus of the Special Interest Group Lipid Analytics and Lipidomics of the DGMS. Students will be financially supported by travel grants of the DGMS. We are very excited to present this meeting and looking forward to lively discussions and many interactions.
The registration is open; we warmly welcome you to the ISAS Dortmund and looking forward to your visit and contribution.
The Organizers
Robert Ahrends (ISAS), Nils Hoffmann (ISAS), Dominik Kopczynski (ISAS), Nicolas Gisch (RCB) and Dominik Schwudke (RCB)
Details

Category: News
We are looking for a master student (m/f/v) in Bioinformatics / Informatics for the research group Bioanalytical Chemistry (PD Dr.
Schwudke) at this time in the field of Lipidomics.
The goal of this master's thesis is to develop algorithms that will allow to incorporate lipid quantities into the lipidome homology computation. For this purpose an optimization function needs to be defined that helps to maximize the accuracy of the homology metric and should improve associations of phenotypic data to lipidomes (Eggers et al. Scientific Reports 2017).
The Research Center Borstel is an international science company, funded by the German federal government and the state of Schleswig-Holstein with 550 employees. Our central task is research and patient care in the field of respiratory diseases. We operate both, infrastructure of basic research as well as a medical clinic.
We have one goal: to improve existing methods for the detection, prevention and treatment of lung diseases and to develop new, innovative therapeutic approaches.
The Research Center Borstel encourages female candidates to apply and will be treated favourably in case of equal qualification. Disabled applicants with equal qualifications will be considered on a preferential basis.
For further information, please contact:
PD Dr. Dominik Schwudke, Email: This email address is being protected from spambots. You need JavaScript enabled to view it. or
Dr. Fadi Al Machot Email: This email address is being protected from spambots. You need JavaScript enabled to view it..
Applicants are requested to send their cover letter, CV without picture and list of publication until December 1st, 2018 only via email to: This email address is being protected from spambots. You need JavaScript enabled to view it..