Details

Category: News
New edition of the DECHEMA Trends in Metabolomics conference!
Dear Colleagues,
Metabolomics is closing an important gap in the area of post genome research. Determining the information flow from genome to transcriptome, proteome and finally metabolome allows, for the first time, a comprehensive description of living systems.
The next Trends in Metabolomics meeting (27 - 29 April 2021, Frankfurt/M, Germany) will again cover current topics ranging from technical developments in analytics, the integration of metabolomics into systems biology to biomarker discovery in biomedical research. A young scientists' workshop on career perspectives will precede the conference. So far, these distinguished colleagues have accepted the invitation to give keynotes:
Hannelore Daniel, TUM,
Sarah-Maria Fendt, VIB Leuven,
Gavin O'Connor, Physikalisch-Technische Bundesanstalt, Braunschweig, and
Dominki Schwudke, Forschungszentrum Borstel.
The programme committee, consisting of board members of Deutsche Gesellschaft für Metabolomforschung (DGMet) and the DECHEMA Working Group on Systems and Synthetic Biology, invites you to submit abstracts of lectures and posters by 1 November 2020.
Companies interested in sponsoring or presenting their products and services in the exhibition should contact Kristina Böhlandt for more information: This email address is being protected from spambots. You need JavaScript enabled to view it.; Tel. +49 69-7564-129
On behalf of the organising committee,
best wishes,
Hanna Bednarz, University of Bielefeld
Karsten Niehaus, University of Bielefeld
Karsten Hiller, TU Braunschweig
Joachim Kopka, MPI Golm
Uwe Sauer, ETH Zurich
Wolfram Weckwerth, University of Vienna
Details

Category: News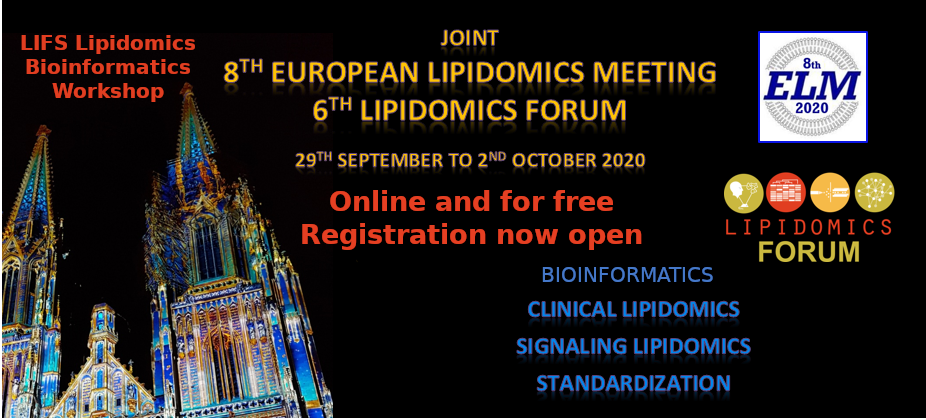 Welcome to the first JOINT
8TH EUROPEAN LIPIDOMICS Meeting &
6TH LIPIDOMICS FORUM
Online Meeting cohosted by iLS

29th September to 2nd October 2020
Dear lipidomics scientists,
we are happy to invite you to the online Joint 8th European Lipidomics Meeting (ELM) – 6th Lipidomics Forum cohosted by the International Lipidomics Society (iLS), which will take place from 29th September to 2nd October 2020. The meeting will be free of charge – please register to receive connection details.
Beside discussion about lipidomics guidelines, chaired by Lipidomics Standard Initiative (LSI), the meeting has two keynotes by Valerie O'Donnell, Cardiff University, UK and Erin Baker, Raleigh, USA as well as sessions for young scientists with talks selected from abstracts (abstract deadline is 15th September) including best talk award. Moreover, plenaries and tutorials on October 1st (LIFS Bioinformatics for Lipidomics Workshop at ELM 2020) and 2nd (bioinformatics symposium) will introduce and discuss the latest bioinformatics for lipidomics.
We are looking forward to discuss with you soon. Stay safe and well!
With kind regards

Ralph Burkhardt, Gerhard Liebisch, Silke Matysik (Regensburg)
Robert Ahrends (Wien) and Dominik Schwudke (Borstel)