Details

Category: News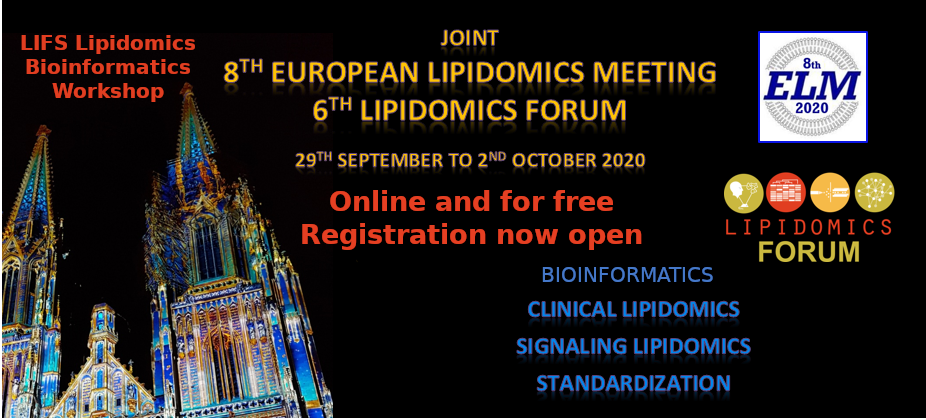 Welcome to the first JOINT
8TH EUROPEAN LIPIDOMICS Meeting &
6TH LIPIDOMICS FORUM
Online Meeting cohosted by iLS

29th September to 2nd October 2020
Dear lipidomics scientists,
we are happy to invite you to the online Joint 8th European Lipidomics Meeting (ELM) – 6th Lipidomics Forum cohosted by the International Lipidomics Society (iLS), which will take place from 29th September to 2nd October 2020. The meeting will be free of charge – please register to receive connection details.
Beside discussion about lipidomics guidelines, chaired by Lipidomics Standard Initiative (LSI), the meeting has two keynotes by Valerie O'Donnell, Cardiff University, UK and Erin Baker, Raleigh, USA as well as sessions for young scientists with talks selected from abstracts (abstract deadline is 15th September) including best talk award. Moreover, plenaries and tutorials on October 1st (LIFS Bioinformatics for Lipidomics Workshop at ELM 2020) and 2nd (bioinformatics symposium) will introduce and discuss the latest bioinformatics for lipidomics.
We are looking forward to discuss with you soon. Stay safe and well!
With kind regards

Ralph Burkhardt, Gerhard Liebisch, Silke Matysik (Regensburg)
Robert Ahrends (Wien) and Dominik Schwudke (Borstel)
Details

Category: News
The Institute of Pharmaceutical Sciences at the Faculty of Natural Sciences at the University of Graz, Austria is seeking to appoint a
University Assistant with doctorate (Postdoc)
40 hours a week; employment contract for a period of 6 years;
Application deadline: Sept 9th 2020
Please find the complete flyer here.
The official announcement is available here: https://jobs.uni-graz.at/en/MB/207/99/6187
Details

Category: News
In May 2019, the Department of Biosciences at Aston University was awarded the EU Marie Skłodowska-Curie funded COFUND Doctoral Programme entitled MemTrain (Cell Membranes in Industrial Processes Training).
The Programme is coordinated by Dr Alan Goddard who is a member of the Aston Membrane Protein and Lipid Research Group (AMPL). More information about AMPL can be found here.
Over five years, MemTrain will train 12 Early Stage Researchers (ESRs; within 4 years of Masters qualification) undertaking a PhD in an area of research within the remit of AMPL, each of which is expected to have an intersectoral focus. Possible projects involve determining the roles of biological membranes in biotechnology or medicines discovery and the application of novel methodologies to investigate these membranes. Our 11 industrial partners will contribute to training of the researchers to generate a unique, integrated, learning environment in which graduate students benefit from industrial links, employability and entrepreneurial skills, and will leave as researchers who are highly competitive for jobs within academia and industry, as well as public policy, intellectual property law or as entrepreneurs.
The first cohort of ESRs were appointed in October 2019 and it is expected that 7 ESRs will be recruited in this call.
In light of the current Coronavirus pandemic, the deadline for applications has been extended to 24th May 2020. All interviews will now take place via Skype or other video conferencing platforms. The revised timeline is shown below.
Further information about the MemTrain project and the team can be found on our website at:
https://www.memtrain.org.uk/
Coordination:
Dr Alan Goddard This email address is being protected from spambots. You need JavaScript enabled to view it.
Further Information
Please visit the website https://www.memtrain.org.uk/recruitment/ for further information and to apply online.
Download Full Job Advertisement [PDF]
Details

Category: News
Release 1.0.5 of the jmzTab-m library was published to Maven Central
This is release 1.0.5 of the jmztab-m libraries that was published to Maven Central.
Please find the full release notes at https://github.com/lifs-tools/jmzTab-m/releases/tag/release-1.0.5.
jmzTab-M is the Java reference implementation to read, write and validate the mzTab-m 2.0 specification for metabolomics.
This release comes with an updated Maven site and JavaDoc and fixes issue #26.
Release 1.0.5 should be backwards compatible to 1.0.4, 1.0.3 and 1.0.2.
However, due to a stricter validation of the ms scan id referencing, files that have validated before may now fail to validate. Please contact us if you need help fixing your files.
This release also includes any amendments that were made as a result of the publication reviewers' feedback and the feedback from the PSI document review process. We have substantially updated the API documentation and have added examples from the specification document and have increased the unit test coverage.
This release is also available from Bioconda and the CLI is available as a Docker container.
Details

Category: News
This year's Lipidomics Forum in Borstel hosted the founding event of the International Lipidomics Society, on November 12th.
What are the aims of the society?
Quoting from the ILS Home Page - About:
The International Lipidomics Society (ILS) is a scientific non-profit organization representing and promoting lipidomics through worldwide cooperation and collaborations by fostering the development of new technologies, techniques, resources, skills and training.

The point of contact for lipidomics research, development and commercialization activities worldwide
Foster global collaboration and transparent communication in lipidomics projects by gathering leading international laboratories from a wide range of disciplines
Organize annual international meetings, workshops and training courses
Foster the translation of lipidomics data to biological meaning in all aspects of research to human health
Support large-scale inter-lab lipidomics projects
Foster and coordinate communication among funding agencies and industry partners with the lipidomics community and coordinate the
Activities of groups and organizations interested in ILS's scientific initiatives and Interest Groups
If you are interested in contributing to or joining the ILS and any of its interest groups, please visit the ILS homepage and get in contact!